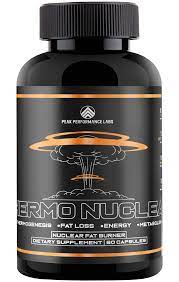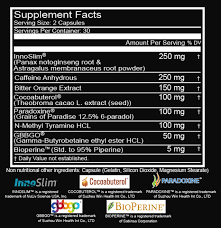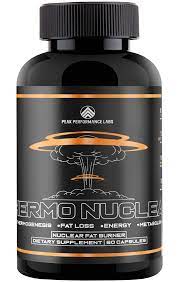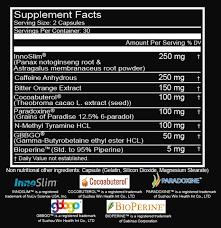 Is a stimulant-free ingredient composed of Panax notoginseng and Astragalus membranaceus. 
Innoslim® supports healthy weight and glucose metabolism. It works cohesively with stimulants to help reach your goals
more efficiently and effectively. 
Research has demonstrated that 250mg of InnoSlim® may support healthy weight loss by reducing excess glucose calorie absorption, appetite suppression, and increased fat burning.
Native to West Africa, Grains of Paradise (Aframomum melegueta) is a spice which belongs to the Zingiberaceae family of plants that are similar to ginger. Paradoxine® is a stimulant-free fat burning compound. 
There have been quite a few purported stimulant-free fat burning supplements over the years, but Paradoxine® actually has human trials demonstrating its effectiveness. 
The benefits of Paradoxine® cannot be undermined, this includes:
- Increased energy expenditure
IMPROVE MOOD + BOOST ENERGY
Cocoabuterol® is the Natural Cocoa (Theobroma cacao L.) extract concentrating the most bioactive compounds. The main active ingredients of Cocoabuterol® are natural polyphenols and alkaloids. 
All of these naturally occurring phytochemicals have incredible benefits throughout the body. 
Cocoabuterol® benefits include:
- Improved cardiovascular health
Is a patented compound ( Gamma-butyrobetaine Ethyl Ester Chloride) which is a breakthrough discovery made 
by scientists to increase L-carnitine supply in pre-workouts and fat burners.
GBBGO® is an ideal compound for those seeking :
- Improved cardiovascular health
- Works synergistically with common pre workout compounds ie caffeine