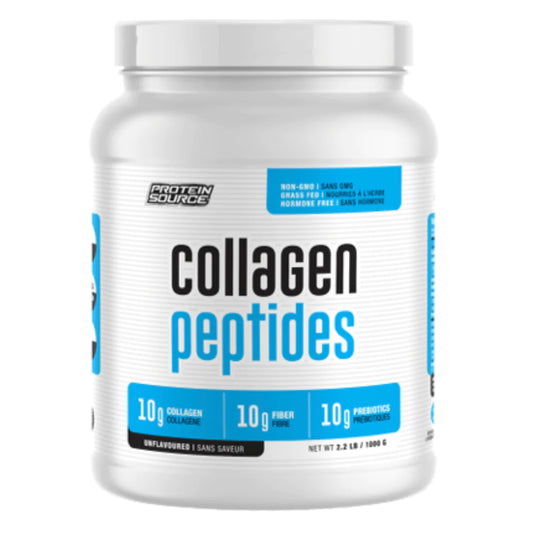 COLLAGEN PEPTIDES + FIBER (2.2 LBS)

Why take our Collagen Peptides + Fiber?
Type 1 & 3 collagen

Collagen peptides sourced from non-GMO, grass fed, hormone free cows

Promotes healthy skin and hair
Supports bones and joints
10 g of Prebiotic Fiber per Serving
Zero Sugar
Gluten Free
50 Servings per bottle
Protein Source Collagen Peptides has been formulated to give you an unbeatable combination of health and wellness benefits. Our collagen peptides are sourced from non-GMO, grass fed, hormone free cows that provide 10g of collagen and 18 amino acids per serving. We also add 10g of prebiotic fiber and zero grams of sugar for maximum health benefit, without any artificial colours, flavours or sweeteners. Our Protein Source Collagen Peptides is gluten-free and suitable for those following a keto or paleo diet. With each 20g scoop providing 50 servings, it's easy to see why this is the perfect addition to your nutrition regime. Enjoy improved joint support, superior hair and skin health plus amazing gut health with our premium grade Protein Source Collagen Peptides - pack in those essential nutrients whenever and wherever!
Collagen Types I & 3 help to increase elasticity of the skin: Minimizing wrinkles and allowing you to have smoother, younger looking skin. Collagen types 1 & 3 also help strengthen bones and nails.